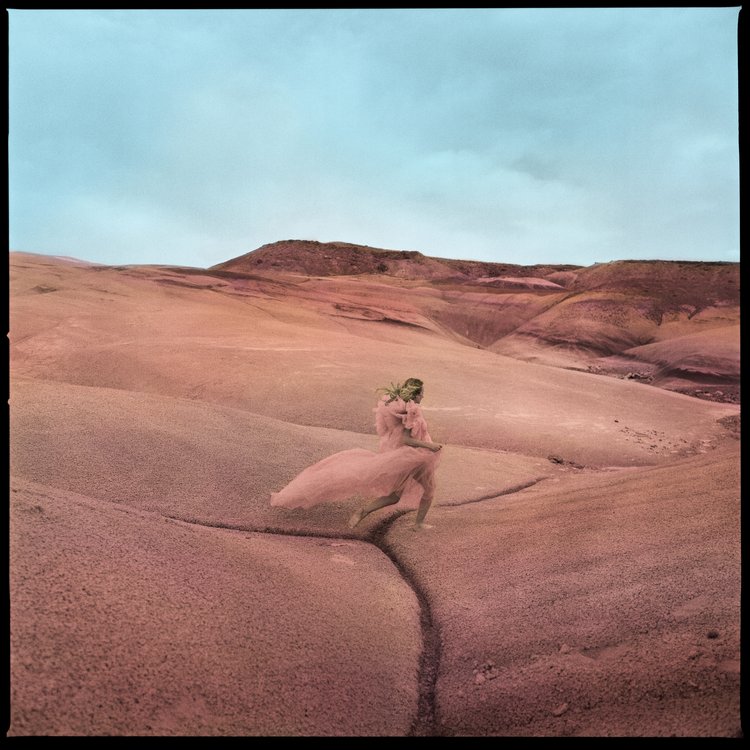 A l'occasion de la sortie de « Strays », son nouvel album, lumière sur une chanteuse qui en a sous la calandre ! 
QUI CA ?
Margo Price ! Une chanteuse auteure compositeur tout droit sorti du rêve américain ! Petite chanteuse de chorale de son église d'origine, elle abandonne l'université direction Nashville, Tennessee à la rencontre de sa carrière musicale ! En 2016, elle sort son premier album solo et en 2018, débarque en Europe pour le C2C, plus grand festival de musique country d'Europe. Un look de blonde à chapeau de cowboy, des textes de blues women à en fendre une pierre, un style extravagant, vous voilà prévenus !
L'ALBUM :
Un seul regard sur la pochette de « Strays » et nous voilà déjà transporté au pays des cowboys, de la musique country et de Footloose. Le genre épuré. Un fossé entre le fond désertique et la femme blonde, Margo Price qui court vêtue de froufrous en tulle rose : bienvenue dans le psychédélique !
Mais en fait, c'est tout l'album qui est une extravagance ! A la fois country, blues, pop, chaque titre est issu d'un milieu musical différent qui renforce cet éclectisme. Une ouverture à la « Riders on the storm » des Doors sur « Been to the mountain », la voix de Margo Price, juchée entre Madonna et une Vanessa Paradis américaine nous raconte son enfer. Le trip continue ensuite avec « Light me up » et son arrière goût de « Blackbird » des Beatles. Puis « Radio » beaucoup plus pop. Ou « Country Road« , épuré à l'extrême : une voix, un piano, une guitare et une batterie très discrète.
Mais attention ! Même si la musique peut paraître mièvre voir lisse par certains aspects, les textes eux sont crus. C'est une véritable purge de tous déboires accumulés avec le temps. Alcool, drogue, deuil, ravages de la vie et des échecs sont autant de sujet que Margo Price expose à la vue de tous. On sent la déchirure interne qui a permis d'accorder sa place de blues women à cette artiste !
En clair, c'est une belle opportunité pour découvrir Margo Price ! Ca s'écoute tranquille posé dans un fauteuil, pas vraiment le style à pogoter dans les brancards. Mais ici, on a bien aimé !
TITRES

:
1. Been To The Mountain


2. Light Me Up (ft. Mike Campbell)




3. Radio (ft. Sharon Van Etten)




4. Change of Heart




5. Country Road




6. Time Machine




7. Hell In The Heartland


8. Anytime You Call (ft. Lucius)




9. Lydia




10. Landfill
JE VEUX DU LIVE !
Certes, mais alors il va falloir aller voir par delà l'Atlantique !
2/02/23 : Houston,

White Oak Music Hall

3/02/23 : Austin,

Emos Austin

4/02/23 : Dallas,

Granada Theater

6/02/23 : Phoenix,

Crescent Ballroom

7/02/23 : San Diego,

The Observatory North Park

9/02/23 : Los Angeles,

The Fonda Theatre

10/02/23 : San Francisco,

The Fillmore

11/02/23 : Arcata,

Van Duzer Theatre

13/02/23 : Portland,

McMenamins Crystal Ballroom

14/02/23 : Vancouver,

Commodore Ballroom

15/02/23 : Seattle,

The Showbox

17/02/23 : Bozeman,

The Elm

19/02/23 : Minneapolis,

First Avenue

20/02/23 : Madison,

Majestic Theatre

21/02/23 : Chicago,

The Vic Theatre

22/02/23 : Indianapolis,

The Vogue

24/02/23 : Toronto,

Phoenix Concert Theatre

25/02/23 : Detroit,

Majestic Theatre

27/02/23 : South Burlington,

Higher Ground

28/02/23 : Boston,

Paradise Rock Club

2/03/23 : Washington,

9:30 Club

3/03/23 : Philadelphia,

Theatre of Living Arts

4/03/23 : New York,

Webster Hall

9/03/23 : Nashville,

Ryman Auditorium

22/03/23 : Boise,

Treefort Music Fest 2023

26/04/23 : El Paso,

Don Haskins Center

27/04/23 : Albuquerque,

Isleta Amphitheater

29/04/23 : Los Angeles,

Long Story Short

22/06/23 : Pendleton,

Jackalope Jamboree 2023

13/07/23 : Charleston,

Credit One Stadium

*14/07/23 : Virginia Beach,

Veterans United Home Loans Amphitheater

15/07/23 : Baltimore,

CFG Bank Arena

5/08/23 : Boston,

Leader Bank Pavilion

6/08/23 : Portland,

Thompson's Point

10/08/23 : Philadelphia,

The Met Philadelphia
Si notre chronique de Strays, le nouvel album de Margot Price vous a plu, retrouvez nos autres chroniques ici !