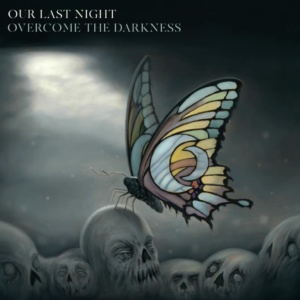 Overcome The Darkness
par Our Last Night
Our Last Night a dévoilé la deuxième partie du projet Let Light Overcome The Darkness. Précisément 8 mois après le très bon Let Light Overcome, c'est donc l'EP Overcome The Darkness que nous avons le plaisir d'écouter. On vous raconte tout ici :
Un EP de 7 titres cette fois-ci donc. Très peu de communication autour de sa sortie, pas de tracklist dévoilée à l'avance (3 titres clipés et sortis avant l'EP tout de même), Our Last Night joue sobre, et compte bien procéder comme ils l'entendent concernant les sorties de titres et d'albums. La formation ouvre avec When Humans Become Our Gods et c'est un régal ! Ils dosent parfaitement bien sons electros, instrumentale lourde, chant clair et scream. La chanson est explosive, et ça se confirme avec la suite Losing Sleep, dernier single à être sortie avant l'album.
Lost vient s'enchaîner dans la foulée et se veut comme un titre plus calme mais tout aussi entraînant, où l'on peut entendre les envolées vocales des deux frères, Trevor et Matt Wentworth. Sur Hysteria, chanson la plus agressive de l'album, on a droit à une super performance de Matt à la guitare, accompagnée du scream de Trevor, tout ça avec la touche si particulière du groupe qui rend le titre mémorable. Très grosse surprise avec Let Light Overcome The Darkness, qui est la ballade pop de l'album. Mais voilà, Our Last Night montre encore une fois toute sa capacité à exploiter ces sonorités, et la chanson est, en plus d'être très audacieuse, une réussite totale. Pour finir l'album en beauté, The Beaten Path est un son puissant avec un mix de tous les ingrédients que maitrise le groupe pour faire une bonne chanson.
Pour conclure, ce Overcome The Darkness est une belle réussite. Our Last Night a complètement su imposer son univers à travers les titres, même lorsqu'il s'agit de styles différents. Le groupe a vraiment montré une belle évolution, et on espère pouvoir les entendre sur les routes Européennes en 2020.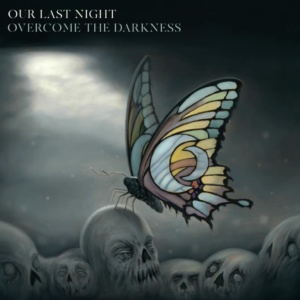 Overcome The Darkness
par Our Last Night