Les articles en brefs ne sont pas rédigés par l'équipe de Pozzo Live. Il s'agit de producteur, tourneur, promoteur... exclusivement.
En bref

.

ANGRA News/ Vidéo « Tide Of Changes »
<!-- -->
Le 3 novembre 2023, le groupe brésilien emblématique de power metal progressif ANGRA sortira sur le label Atomic Fire Records son nouvel album studio très attendu cet automne.
CYCLES OF PAIN
https://angra.afr.link/cyclesofpainYT
Ce nouveau single " Tide Of Changes " est une ambitieuse chanson en deux parties, composée d'une introduction " Part I " menant à " Part II " qui répand une sensation du Moyen Orient avant de faire évoluer sa beauté, poussée par les lignes de basse significativement dominantes de Felipe Andreoli.
Une équipe de tournage autour de Leo Liberti (https://www.libertafilmes.com.br/) a une fois de plus créé un superbe clip vidéo pour le groupe, en y ajoutant cette fois-ci des effets 3D qui lui donnent un cachet futuriste. 
"Cycles Of Pain" a été produit, enregistré, mixé et masterisé par Dennis Ward, partenaire de longue date d'ANGRA (D.C. COOPER, PINK CREAM 69, PLACE VENDOME etc.) au Sonastério & Elephant Office au Brésil, tandis que le mixage et le mastering ont eu lieu au TrakShak à Karlsdorf, en Allemagne.

L'album compte également de nombreux invités, dont Amanda Somerville ("Tears Of Blood"), les artistes brésiliennes Lenine ("Vida Seca") et Vanessa Moreno ("Tide Of Changes - Part II" & "Here In The Now"), et enfin Juliana D'Agostini au piano ("Tears Of Blood").

"Cycles Of Pain" sera disponible dans les formats suivants

- CD-digipak
- CD-Jewelcase
- divers vinyles (rouge/jaune, marbré, clair/bleu, jaune clair/blanc)
- numérique

Tracklisting

01. Cyclus Doloris
02. Ride Into The Storm
03. Dead Man On Display
04. Tide Of Changes - Part I
05. Tide Of Changes - Part II
06. Vida Seca
07. Gods Of The World
08. Cycles Of Pain
09. Faithless Sanctuary
10. Here In The Now
11. Generation Warriors
12. Tears Of Blood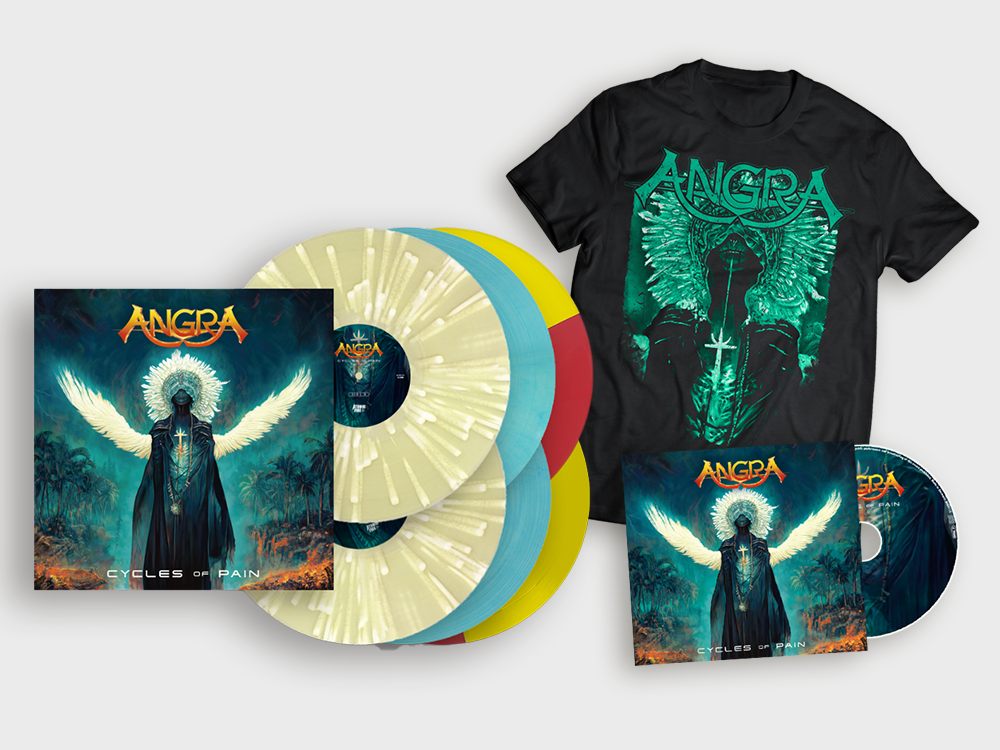 ANGRA are:
Fabio Lione | vocals
Rafael Bittencourt | guitars
Marcelo Barbosa | guitars
Felipe Andreoli | bass
Bruno Valverde | drums

Photo Credit: Marcos Hermes